Mac Users, please download the correct version below manually. You can check "About This Mac" in your system to determine if you have an Arm-based processor (newer M1, M2, etc.) or an older Intel-based processor.


For all users, if you face any download or installation issues, please try manually downloading Epic via the links below.
Mac
Epic has been certified as 100% clean and virus, spyware and malware-free by Norton, Kaspersky, Softpedia and many others.
Epic has in the past received awards from CNET (5 out of 5 stars), PC Magazine (4 out of 5 stars), and PC World (4.5 out of 5 stars).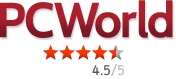 ---
Stay in Touch. Get Epic updates via email.